Halloween games can be dangerous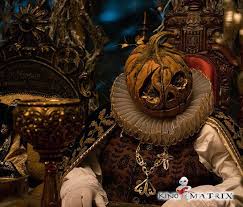 This night, Halloween games and traditions associated with it, can hardly be called a holiday. Rather, a public walk, mundane and unofficial, in the style of horror films. In essence, this is a party of people in the form of evil, a celebration of magic schools and communities, the coven shown in films and described in books.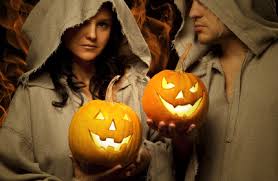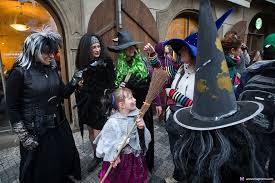 Isn't it an unpleasant sight? A picture of the procession of evil creatures appears in front of their eyes, ready at any moment to pounce on a peaceful Christian. It is strange that the townspeople were touched by the mumbled crowd, throwing candies and coins to them. And they pounced, like a flock of ravens on prey, with faces screaming and twisted with anger, pushing each other, eagerly filling their pockets.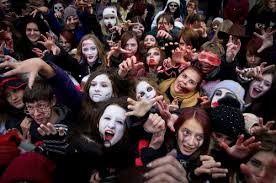 But there is a bright fantasy story about the adventures of the two sisters Yulia and Ani Mishin in this round dance of horrible images, one of which, by the will of her evil stepmother, was supposed to be in Ireland at the school of magicians, and the second went to her instead of her. Clever Anya, a brought up Christian girl, who was even forbidden to wear a cross by magicians, was forced to go on Halloween and went down in historyin which she selflessly saved her sister. They were assisted by a priest, his son, a grandmother, who had come to pick up her granddaughter from the nest of evil, and guardian angels. In the meantime, Annushka's friend, Daru, who escaped from school after trying to sacrifice to her favorite rabbit Bilbo, Samkhain (death lord), was saved by throwing him into a fire.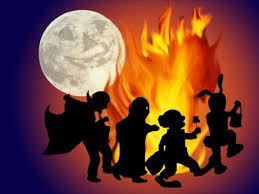 Capture, chase, the impact of holy water and the cross on the entity, trying to destroy people, the call of the angels, their battle with the forces of darkness - all events carry a belief in goodness, love and God's help. And there is no fear at all, as when watching or reading horror movies. When a person is not one and love, and next to there are guardian angels and those whom he loves, neither vampires, nor ghouls, nor witches are scary.
Take it to yourself, tell your friends!
Read also on our website:
Halloween is not just a holiday!
But did you know that if God sends us a guardian angel, then Satan is a destroyer demon, and people are now celebrating the coming of this same demon on the Halloween holiday! Agree, the real madness is to celebrate your doom, because ...
The hidden truth about "funny" Halloween
After years of isolation, our people greedily absorb elements of foreign traditions and culture. One of these "innocuous" masquerades is Halloween. Few people know what is really hidden behind the screen of the atmosphere of general fun and innocent tomfoolery.
Halloween: Should I Ban? (Poll)
Regional ministries of education do not recommend celebrating Halloween in Russian schools. But there is no official ban on this holiday. The network offers scripts for "school Halloween", and in stores there are stands with holiday attributes.
Halloween is a scary guide between us and dark forces.
If you are in your right mind, think: why are you celebrating the coming into this world of evil forces, demons and the devil? This impure force exists in order for a person to suffer from various diseases, be in a depressed state, become angry and irritated. Particularly affected by demons are children ...
What after Halloween?
Halloween celebrates the celebration of Halloween to sin, if you celebrate this holiday yourself,and to grave sin - if you involve children and other people. Do you know about the disastrous consequences of this "fun" holiday?
Is Halloween harmless?
Halloween is not as harmless as it seems at first glance. Do not be fooled!
Daredevil and Halloween
Halloween is a celebration of evil spirits. Be alert while celebrating it.
Original Halloween Games and Contests
Halloween is soon - a holiday shrouded in many secrets. In this article you will learn which games and contests will make it unforgettable. The thrill you provided - get ready for an explosion of emotions and feelings!
Do it yourself halloween costumes
The article tells how to make with your own hands the costumes of a witch, a vampire, a mummy, Caesar, ghosts, etc., to Halloween. The process is painted step by step. But if the time before the holiday is not enough, then everything can be rented or purchased in the online store.
Magic dishes on Halloween
In America, this holiday, which has a huge commercial success, is celebrated by almost everyone.By popularity, it is in second place in the ranking after Christmas. Gifts, costumes, menus are thought out for a long time, tables in cafes and restaurants are ordered.
The history and aftermath of the celebration of Halloween
The feasibility of celebrating Halloween is a controversial topic in our Christian state. So how can "harmless" Halloween games affect a person? Consider this question on the example of cinema stars, and also take an interest in the opinion of the Orthodox Church on this issue.
Halloween Games and Fun Competitions
The tradition to celebrate Halloween has taken root in our area. Scary and fun outfits, provocative contests, a sea of ​​sweets and traditional Halloween games. All this comes annually to people's homes under the banner of the most terrible and fun holiday.
Halloween: do not play with death
Thick autumn night. Passers-by hurrying in costumes of witches, vampires, werewolves to a party ... Halloween games - the anticipation of stormy mystical fun excited the brain and imagination.Somewhere in the subconscious, fear and an obsessive thought firmly sat down: "Or maybe not worth it? Don't play with death? "
Related news