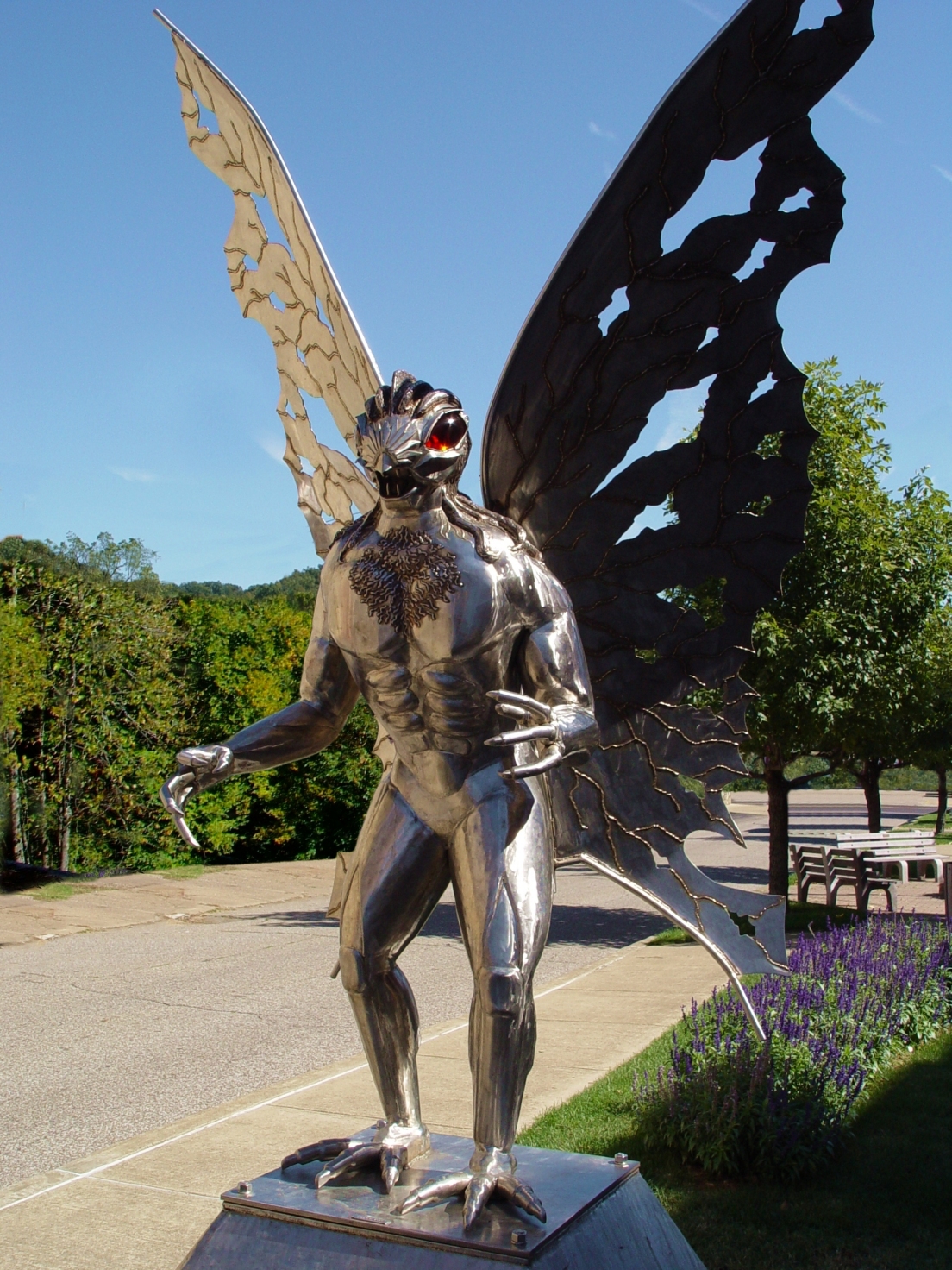 Mystical moth man from Point Pleasant
The so-called "man-moth" from the town of Point Pleasant, that in West Virginia - perhaps the most mysterious of all the legendary creatures of modern history.
For the first time, a moth-man was talked about in 1966, when several people at once declared that they had seen it with their own eyes. Since then, something similar to the descriptions appeared in other countries of the world, but still Point Point is considered to be the main place of its dwelling.
Anyone who has seen (or says that he has seen) this man-moth himself describes him as a winged two-meter man with a wingspan of about 3.5 meters, inspiring a terrible, paralyzing fear. Most of all eyewitnesses were impressed by his brightly glowing, red eyes.
A Point Pleasant resident named Fay Devitt described her encounter with the moth man in 1966 with these words: "This creature jumped right onto the hood of the car and looked at my brother intently. We were at a loss for what would follow.For fear, I could not move a few minutes. And then it was on the roof of a five-story building and from there it flew away in an unknown direction. "
Another collision with a moth man was told by local contractor Newell Partridge. At first he heard strange sounds, and his dog immediately began to howl loudly. He went out of the house to see what was the matter, saw a strange creature and ran back to the house for a gun. Newell was so frightened that he decided not to risk and no longer go out, he spent the night hugging his gun, and fell asleep near his bed. The next morning, Newell discovered that his dog had disappeared without a trace.
Most cases in which the man-moth appears are recorded at the end of 1966 and 1967. And after the collapse of the Silver Bridge connecting West Virginia and Ohio in 1967, during which 46 people died, the man-moth almost ceased to appear.
Since then, people have begun to associate the phenomenon of the human moth with a near catastrophe. For example, there is information that the moth was seen in 1986, before the accident at the Chernobyl nuclear power plant.
Some skeptics believe that man-moth is nothing more than a huge Canadian crane with a wingspan of up to one meter.Others believe in a supernatural being warning people of an impending threat. Reports of the appearance of the man-moth continue to come to this day, but this does not happen as often as in 1967.
Today, in Point Pleasant, you can see a statue of a stainless steel moth-man - locals consider this mysterious creation an integral part of the history of their city.
Related news
Mystical moth man from Point Pleasant
Mystical moth man from Point Pleasant
Mystical moth man from Point Pleasant
Mystical moth man from Point Pleasant
Mystical moth man from Point Pleasant
Mystical moth man from Point Pleasant
Mystical moth man from Point Pleasant
Mystical moth man from Point Pleasant
Mystical moth man from Point Pleasant
Mystical moth man from Point Pleasant
Mystical moth man from Point Pleasant
Mystical moth man from Point Pleasant
Mystical moth man from Point Pleasant
Mystical moth man from Point Pleasant
Mystical moth man from Point Pleasant
Mystical moth man from Point Pleasant
Mystical moth man from Point Pleasant
Mystical moth man from Point Pleasant
Mystical moth man from Point Pleasant
Mystical moth man from Point Pleasant