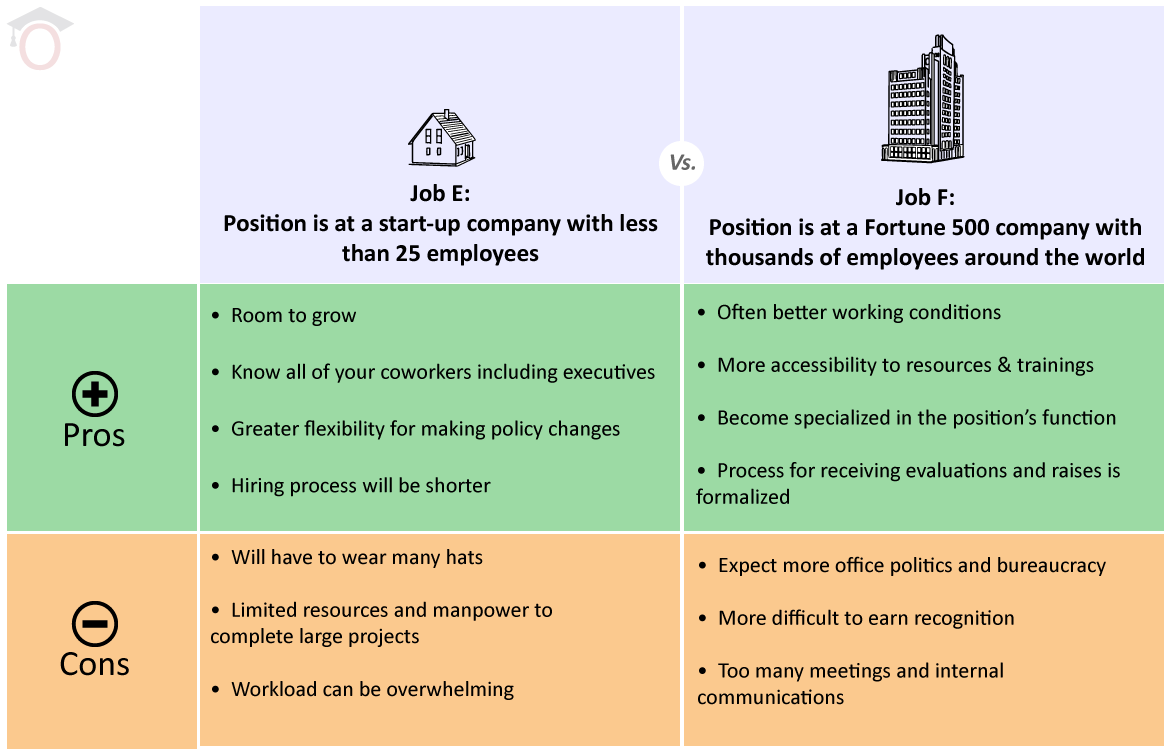 Maria Soboleva
23.09.2015
Work in a large company. Pros and cons
Do you find a job in a large company more promising? What advantages does it give, how are different corporations, alliances and syndicates attractive? Let's evaluate their pros and cons and compare with small firms that have their positive sides.
Work in a large company - the advantages
Still, the authority of mega-companies is great. Working there is a dream of many, it seems to us that by becoming a member of a large team, we will ensure a comfortable life, career growth and other benefits. Pros are, of course, with them and begin.
Stability
Appreciate traditions, confidence in the future, clear rules of the game - then, of course, work in a large company will be attractive to you.
In large corporations, the mechanism of successful work is debugged over the years. If a specific procedure was not followed, there was no separation of duties and a strict hierarchy, such a company would not have reached the level of a giant and market leader.
Prestige
Yes, the prestige factor matters to many. When the cult of success is promoted, being the first and best becomes the meaning of life, working in a large company seems like a chance to achieve real success.

Well, if you still have to look for yourself in another place, then the employment record of work experience in Gazprom, Lukoil, Evraz, Rostelecom, General Electric, or Microsoft will be clearly counted plus this job seeker.

The status of a large company is what attracts those who dream of being part of such a team. "I work at IBM" - sounds cool, right?
And in terms of the work itself - the products of the promoted brand are much easier to sell, such a company is more successful and competitive, because it has a name.
Material interest
Salary (and very good) is paid on time, bonuses and bonuses are also pleasantly stimulated.
There are a number of advantages: medical insurance, paid-for meals for employees, free mobile communications, foreign language training, corporate leisure in a big way - can a small company be able to encourage its employees?
Clear structure
Responsibilities of employees of large companies are clearly marked, everyone knows their place in this powerful machine, not splashing, but carrying out what is necessary according to the staffing table.
But at the same time, each employee has a chance to find another use within his company. New specialization can be mastered, without changing the place of work. In large companies there is always a need for specialists of different profiles.
Work in a large company - cons
Ideal jobs do not happen. And, quite possibly, working in a small company, you will achieve great success and will feel more comfortable and confident.

On the negative and controversial aspects of employment in a large company also need to know.
Not everything depends on you
The success of the project depends on the team. How your colleagues work will determine the final result. You can cope excellently with your specific job site, but due to the inefficiency of the group as a whole, the quality of the final product can suffer greatly.

And if everything is fine, then the leader will reap the laurels, of course. Your contribution, most likely, no one will notice.
Bureaucracy
To approve a decision or document often takes a long time.which will be spent on approval at different levels of management. This is much easier in small firms where management is more accessible and the process goes faster.

A large mechanism, which is a solid large company, is often more conservative to change. New ideas to implement more difficult because of the scale of such a corporation.

It is easier for small firms to take certain risks in creating innovative products. Although, if we take the financial side of the problem, then the possibilities of the giants are incomparably higher, with their budgets.
The severity of corporate standards
Corporate culture - where do without it in large companies. Above its development, implementation and monitoring compliance with a staff of specialists.
You must accept the rules of the game, whether you like them or not: from the style of communication between management and subordinates and colleagues among themselves, to traditions (corporate holidays, mandatory trainings) and strict dress code.

Even a valuable employee who does not fit into the norms of the corporate code risks losing his job.
Slow career advancement
It is not always worth believing promises of rapid career growth in large companies. Often, to rise to 1-2 positions is real, but higher is already problematic.

A large-scale machine needs, mainly, ordinary performers, sort of cogs in a complex mechanism. Standing higher on the hierarchy will not be in a hurry to move and give up their place to the young and ambitious.

Yes, there are many vacancies, and there are chances to take a better position. But besides professionalism and perseverance, something is often required, and unrelated to work — the ability to intrigue and conduct backstage wars.
Start a career - where is better
To give an unequivocal answer to the question where it is better to start your career is unlikely to be correct. It depends on what you expect from your future work.
Employment in a large company is not always a good start. Consider the main pros and cons of starting a career in a large corporation.
Significant advantages include the ability of the company to invest in a new employee: the adaptation system is clearly built, there is an attached mentor, you can receive additional training, in the future - even abroad.

You can grow professionally by working on projects in a team of colleagues, communicating with related departments, participating in various trainings.That is, you will definitely get valuable experience.
In small firms, it is often necessary to combine duties: an assistant manager can be a press secretary, a PR manager, and even deal with commercial issues.

If you like to try yourself in different areas, to be what is called a generalist specialist, it is better to start in a small company.

Regarding career prospects - your success in a small team will be noticed and evaluated much faster. A young employee, having shown zeal and talents, has a chance to quickly grow to a management position.
But the level of his managerial knowledge and skills will obviously lag behind the requirements of large companies. And the deputy director of a trading company (in fact, a shop with a staff of 6 people) will not be able to claim the position of a top manager of a company with a thousand staff.
If you are an open and sociable person, then working in a small team will suit you better. The atmosphere in small firms is more lively, warm and friendly.

And in a large company, you can always move to another department and work further.

Before deciding whether a job in a large company is right for you,carefully weigh all the pros and cons. Determine what you want - stability, material wealth, development of your abilities, career prospects.
Take it to yourself, tell your friends!
Read also on our website:
How do managers work? What is the essence of the profession
How do managers work? What is the essence of this profession, where such specialists are most in demand, what obligatory qualities should they possess? We will tell you what distinguishes sales management and where young people apply their knowledge and how to achieve success in the profession.
How to relax after work? Recuperation rules
How to relax after work? What to do at home in the evening, on weekends, during holidays, to recuperate? We will also tell you who is interested in active rest, what is useful in changing activities and why you need relaxation during the working day.
What is a dress code? Rules for choosing clothes
What is a dress code - why is it needed, and how to choose the right style of clothing for different situations? Want to know what should appear in the office, at receptions, business negotiations, corporate parties, and how does black tie differ from formal?
How to skip work without unpleasant consequences?
How to skip work without unpleasant consequences? What reasons for your absence can be considered plausible and valid? What can I say, if you missed the working day and you are threatened with dismissal - read everyday tips in this article.
How to get to work on time? Tips late
To come to work on time is the responsibility of every employee. But for some reason, many people are constantly late - we will tell about the main reasons and how to deal with them, share effective methods of teaching ourselves to punctuality.
Motivation of staff. What to do in a crisis?
Motivation of staff in a crisis - is it really necessary, and what methods are effective in times of economic difficulties? About the material interest of employees and about other incentives, about the role of the team and leader - learn more useful information.
What are employers cheating on?
Starting a job search, we risk becoming victims of fraud.How to distinguish unscrupulous employers from honest employers? What will help the applicant to avoid fraud and protect his interests in labor disputes? Read tips from HR specialists.
Where to find work without experience for young professionals
If during student practice you couldn't settle in any company, you shouldn't despair. It is completely unreasonable to begin work with a low position or a less prestigious job. About where to find a job without experience, you will be prompted by the tips in this article.
Where to find a job without experience - tips for a student
There is an opinion that the lack of work experience is the main obstacle for the successful employment of a young student or graduate student. But labor market statistics show that the number of vacancies for newly-minted specialists is quite large. Work for a student: how to find without experience?
Types of Internet Employer Fraud Schemes
How not to get into the network of scammers, offering remote work? What are the schemes of deception, allowing you to lure money from gullible applicants, and how to recognize employer scams? We know the answers to these questions. Find out and you.
Related news
Work in a large company. Pros and cons
Work in a large company. Pros and cons
Work in a large company. Pros and cons
Work in a large company. Pros and cons
Work in a large company. Pros and cons